Good Night On The Pitch But a Bad Night Off For Manchester United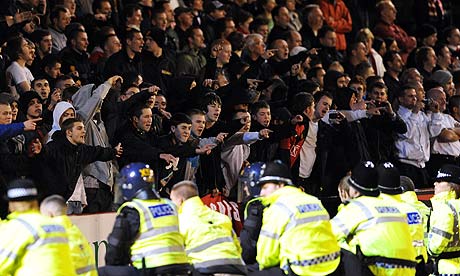 After last night`s crowd trouble at Barnsley the F.A. has confirmed it is investigating the events during the Carling Cup tie between Barnsley and Manchester United at Oakwell.
According to South Yorkshire Police, eight fans were arrested at the match, after trouble flared at half-time. Also, some catering staff were trapped inside a food kiosk and had to barricade themselves in a store room for around half an hour as fans broke in and stole cash and food.
Stewards on the pitch also had food thrown at them during the violence.
That all spoiled a good result for the Red Devils, winning 0-2, though Gary Neville`s sending off was a black mark.